Books
As the Tide Came Flowing In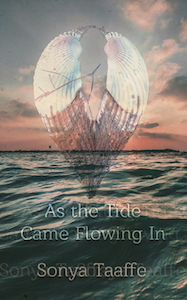 Through a double handful of poems and one novelette, As the Tide Came Flowing In combs for love, persistence, what wrecks and what remains, what the sea keeps, and what it gives back. There are kelp-ribboned caverns here and the line of bright sky that meets the offing, black weddings and a scattering of pearls. Stark, intricate, deft and queer, Taaffe's is an invitation to the deep.
Sonya Taaffe writes about the inner lives and histories of the soul through her gem-like pieces. Hers is a singular voice, as startling and intricate as winter waves crashing ashore. This chapbook is a must read for those of us longing for the salt and the sea-fog and beneath it, the sharpness of truth. —R.B. Lemberg, Nebula, Ignyte, and Locus Award Finalist for The Four Profound Weaves
Sonya Taaffe is my favorite living poet. Her works are so finely honed that I cannot imagine changing one word in this exquisite collection without upsetting their essential balance and beauty. Reading her poems and stories is the sweetest of ways to drown. —Yoon Ha Lee, Locus and Mythopoeic Award-winning author of Ninefox Gambit and Dragon Pearl
Sonya Taaffe's new collection As the Tide Came Flowing In will submerge you in uncanny wonders, from the clever and multi-layered, hilarious yet world-weary opening poem "Dive" to the sweeping title story, a simultaneously intimate and epic tale of emotional wreckage, spectral gyres and hope surfacing from tragedy. In between, sirens and gods, seabirds and ghost ships, will entrance you as you navigate these pages. —Mike Allen, Shirley Jackson Award-nominated author of Unseaming and Aftermath of an Industrial Accident
No one writes about the sea like Sonya Taaffe—its beauty and mercilessness shown in equal measure, with attention to every detail from the skim of the waves to the crusts of mussels. The poems and the previously unpublished novelette in this chapbook will bring you close and pull you underwater, never content to remain on the surface. In these works, everything is defined in proximity to the ocean—its depths will haunt you even on dry land, and you will in turn haunt others. Allow it to happen! —Bogi Takács, Hugo and Lambda Award-winning author
ISBN: 978-0-578-97228-2
Publication Date: 2022
paperback 64 pages
Publisher: Nekyia Press
---
Forget the Sleepless Shores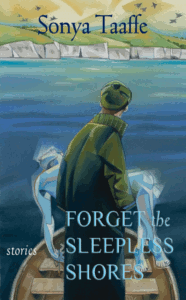 In Forget the Sleepless Shores readers should expect to be captivated by many ghosts and spirits who inhabit brine, some from tears of heartache and loss, some from strange bodies of water, not necessarily found on the map but definitely discovered through charting a course though the perilous straits of author Taaffe's imagination, which is eerie and queer (by every definition of the word).
Sonya Taaffe is possessed of a singular and brilliant voice, one I have admired (and envied) since I first read her work more than a decade ago. Few living authors have brought to the task of building fantasy and science fiction her keen eye for the intricacies of the sublime and the terrible, the erotic and the weird. Fewer still have approached this work with such an undeniable talent. It is not an exaggeration to say she takes my breath away, like a plunge into deep, cold waters. —Caitlín R. Kiernan, World Fantasy and Stoker Award-winning author of The Drowning Girl
Conscience stalks Oppenheimer as a golem of nuclear glass; passion is laid bare beneath a peat bog; fall and fire claim their own. A girl is moth-light to a throng of ghosts. The sea calls, endlessly imperative. The water chooses whom to drown. In Sonya Taaffe's vivid cinema of metamorphoses, the elements themselves have eyes. Watch now and wonder. —Greer Gilman, World Fantasy and James Tiptree Jr. Award-winning author of Cloud & Ashes
Taaffe is a bard on the same shoreline as Marge Piercy, perfect turns of poetry weaving ghosts and sirens down coasts at once familiar and strange. Her exiles, human and otherwise, tell tales of intimate diaspora, intimately observed. I paused often to savor descriptions that captured an experience made new, and lay awake later, word-haunted by these stories. —Ruthanna Emrys, author of Deep Roots
Sonya Taaffe's writing is prose concentrate that, when reconstituted in the vehicle of your mind, leaves you fully sated, fully nourished. Savor the stories of Forget the Sleepless Shores the way you'd contemplate a long-anticipated wine: slowly, languorously, your mind volleying between sensual delight and critical appreciation. And keep savoring: Taaffe's unforgettable mix of poetic language, scientific precision, and microscopic analysis of human longing is simultaneously bountiful and never enough. —Carlos Hernandez, author of The Assimilated Cuban's Guide to Quantum Santeria
ISBN: 978-1-59021-210-3
Publication Date: 2018
paperback 294 pages
Publisher: Lethe Press
---
Ghost Signs
A lantern hangs for the ghosts, both desolate and numinous. The white road and the black river run down into the dark and return again. In this collection of thirty-six poems and one story, Rhysling Award-winning poet Sonya Taaffe traces the complex paths between the dead, memory, and living. A two-part cycle written over the course of seven years, "Ghost Signs" leads the reader through the underworld of myth to the hauntings of the present, where the shades of Sappho, Alan Turing, and Ludwig Wittgenstein exist alongside Charon, Dido, and The War of the Worlds. "The Boatman's Cure" follows a haunted woman and a dead man as they embark on a road trip through coastal New England, an exorcism at its end. Sharply imagined, deeply personal, Taaffe's work in Ghost Signs is at once an act of remembrance and release.
Sonya Taaffe writes hauntingly of edgelands. Her poetic world lies on both banks of the Acheron, which may be crossed both ways. In Ghost Signs, she writes of uncompleted lives, of the lingering and commingling of the dead with us, the living. Where we meet are borderlands, uncertain spaces: in a saltmarsh, in the mud of trenches, in the realm of numbers, on the edge of sleep. There is darkness; but the journey is upward, into light. A transcendent book. —Greer Gilman, author of Cloud & Ashes
ISBN: 978-1-61976-071-4
Publication Date: 2015
paperback 84 pages
Publisher: Aqueduct Press
---
A Mayse-Bikhl
This collection of Jewish-themed poems of the fantastic by Sonya Taaffe brings together twenty poems written and published over the course of ten years. They first appeared in such venues as Goblin Fruit, Mythic Delirium, Stone Telling, Not One Of Us, Dreams & Nightmares and more, and "Domovoi, I Came Back!" was nominated for the 2011 Rhysling Award. Curated by R.B. Lemberg and introduced by Jeannelle M. Ferreira, this work is a testament to an abiding tradition, sometimes flourishing and sometimes salvaged from ruin.
Here are almost a decade's worth of poems, curated by the author and R.B. Lemberg. They tap an abiding cultural well; they are folk tales, mermaid-mayses, they are the richly hued wares of those who have traded in small, bright, enduring objects for a thousand years. Ms. Taaffe knows how to please the reading eye and linger in the senses, to charm by a sound, to sketch an inheritance with ash and fire and with sweetness. By turns intimate, elegiac, singing, and seeking, these poems are full of truth. They are deeply and completely Jewish poems, though to say that is to reach above one's height for the emet written in the clay. Perhaps all Jewish texts look backward, inward, into dreams and the dark: better the wolf you know. These are poems for those who have known the wolf. Memory, wire-sharp and gallows-cold, is here, and the last notes of songs the whole world has forgotten. Orpheus is here too, Amazons, tzaddikim, dybbukim, small gods, and tummlers; the weighted grey of the diaspora; the warm golden stones of Jerusalem. It is all yours for the taking. —Jeannelle M. Ferreira, author of A Verse from Babylon
ISBN: 1907881131, 9781907881138
Publication Date: 2011
paperback 31 pages
Publisher: Papaveria Press
---
Singing Innocence and Experience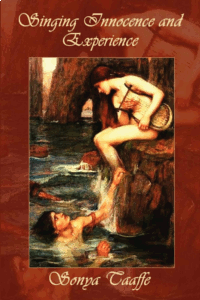 The Devil's School lies down this way. Lot's wife knows your name. Hearts hang in the scales, flesh and clay are one and the same, and the severed head of Orpheus sings in winter waves. In award-winning poet Sonya Taaffe's first collection of short fiction, the boundaries between worlds dissolve to reveal unmasked harlequins and women made of stars, serpentine plagues and New England storm gods, and many other denizens of the spaces between. These songs of innocence and experience, Blake never knew.
ISBN-10: 0809544792
ISBN-13: 978-0809544790
Publication Date: 2005
paperback 272 pages
Publisher: Prime Books
---
Postcards from the Province of Hyphens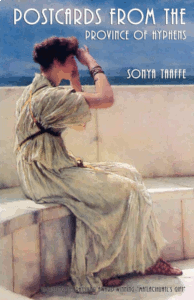 Postcards from the Province of Hyphens marks the debut of Sonya Taaffe's first full-length collection, with nearly fifty poems and prose pieces, including the Rhysling award-winning and -nominated poems, "Matlacihuatl's Gift," "Storm Gods of the Connecticut River Valley," "Green Fuses," "Harlequin, Lonely," and more.
ISBN-10: 0809544873
ISBN-13: 978-0809544875
Publication Date: 2005
paperback 112 pages
Publisher: Prime Books